Are you a busy eCommerce store owner who wants to know the best Shopify payment apps to ease the payment process? This article looks into the best five Shopify applications to process payments and has a seamless checkout experience.
You need not worry about managing payments on eCommerce platforms if you have automated payment apps. A Shopify store with third-party apps to process payments enhances the customers' journey and improves the functionality of the store.
Overview of the Content
What is a Shopify Payment App?
Shopify payment apps work well in online stores to automate the payment process and enhance the checkout process. Many Shopify merchants use third-party payments apps to manage payments on their store.
A Shopify merchant should check whether the third-party apps integrate with the Shopify apps or not. Optimizing the Shopify stores should not consume time for online store owners. Integrating a payment app into the online store is the best way to automate payments and provide new payment options for customers.
How Does Shopify Payments Work?
Shopify is one of the best eCommerce platforms that have flexible payment methods. Shopify payments apps from the Shopify app store enhance the recurring payments and partial payments in the online store.
Also, if you use various payment gateways on Shopify, then the platform doesn't charge you extra fees. Shopify payment method is one of the easiest and most seamless methods compared to other eCommerce platforms.
5 Best Shopify Payment Apps
Now that you know what a Shopify payment app is and how Shopify payments work, you must learn about the best apps on the Shopify app store to have a better checkout experience in Shopify stores.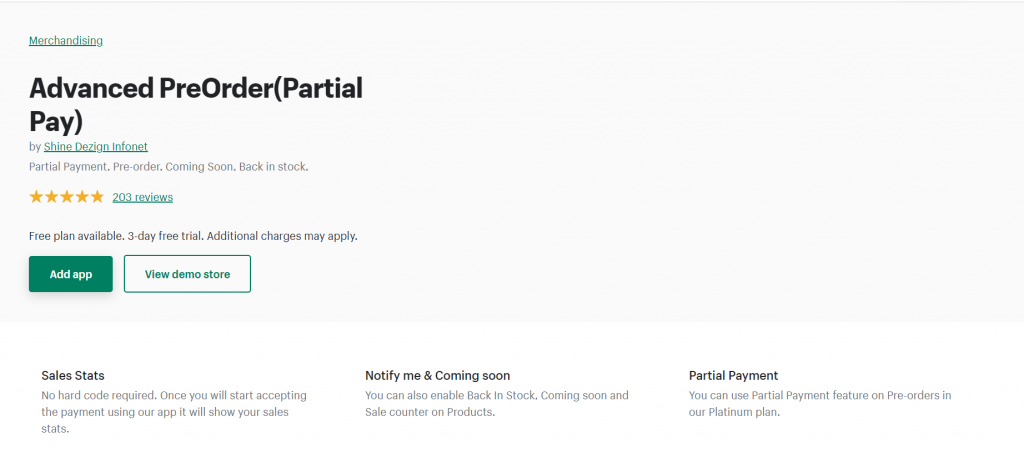 Advanced PreOrder is one of the best Shopify payment apps that shows the sales stats of the online store once you start using the app for payments.
This app doesn't require advanced code to install and use, so if you are not tech-savvy, Advanced PreOrder is easy to install and use on your online stores. This app also changes the 'Add to Cart' button to the 'Pre-Order' button. If a customer uses the 'Advance Pre-order' option, they can order after products are out of stock.
You can also enable and disable the 'Advance Pre-order' button. Shopify store owners can also make use of the 'Mark as Paid' option for the 'Cash on Delivery' (COD) orders. Additionally, the 'Notify Me' option in the app is useful for customers to find the desired products again when it is in stock.
Price
Advanced PreOrder has four pricing plans including the free trial. In the free plan, you have four published pre-orders and a sales counter.
$4.99/month – 15 published pre-orders, sales counter, and email support. For Shopify plus owners, this plan is for $13.99/month.
$10.99/month – unlimited pre-order, 15 partial products, coupon on partial payments, geolocation, notify me and email support. For Shopify plus owners, this plan is available for $20.99/month.
$19.99/month – Three days free trial, unlimited pre-orders, add a coupon on the partial payments, geo-location feature, notify me, and premium support.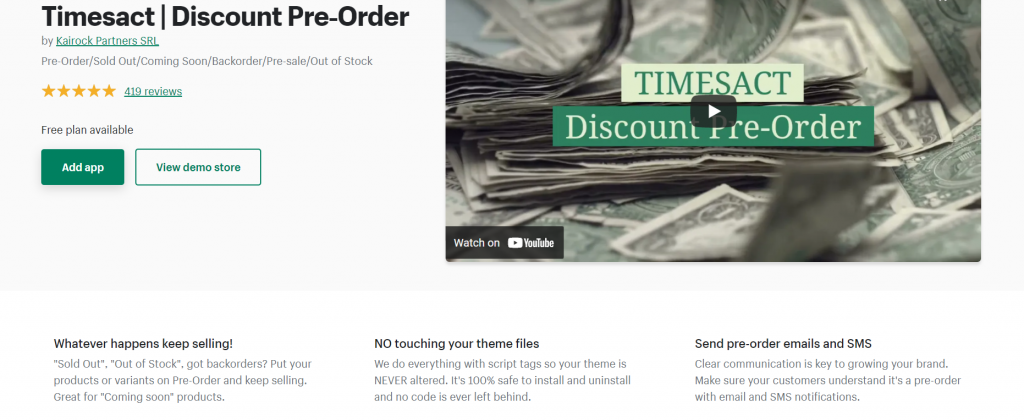 Shopify store owners need not worry about selling out-of-stock products when they use Timesact app. This payment app puts the products on the 'Pre-order' list and sells them without any pause.
Timesact also sends SMS and email notifications to your customers to enhance their journey in your online store and informs your customers about product availability and new arrivals via notifications. There is no coding when using the app, and the easy setup captivates every Shopify merchant. Timesact supports the pre-order button on product pages, quick views, mobile, and AJAX carts. Shopify merchants also have different inventory management options in the Timesact app, including:
You can sell the pre-orders despite inventory levels.
Sell pre-orders when the inventory is below 0.
Sell only Shopify Inventory as pre-orders.
Price
Timesact has four pricing plans including the free trial option. In the free trial, 10 pre-sales are free with unlimited products and variants, with 24/7 email and chat support.
$6.65/month – Ten pre-sales per month, unlimited products and variants.
$10.45/month – 25 pre-sales per month, unlimited products and variants, all features, email and chat support.
$16.15/month – 50 pre-sales per month, unlimited products and variants, higher-tier plans, email and chat support.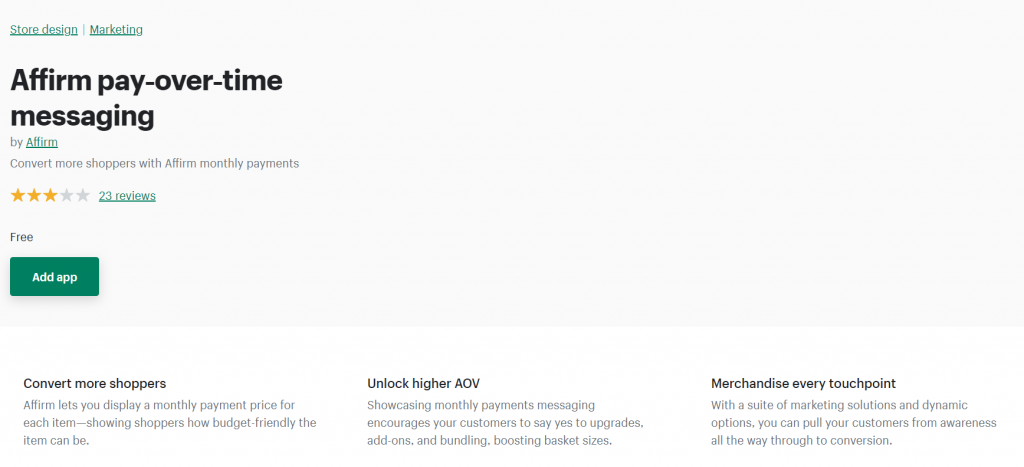 Every online shopper shops in stores that have affordable payment options. Affirm Pay-Over-Time Messaging displays the monthly payment for every product in the online store to help online shoppers understand affordable plans.
The monthly payment messaging encourages customers to accept upgrades, add-ons, bundling, and basket sizes. Paying overtime for purchases will allow your potential customers to purchase products from the website. There are no deferred interest, compound interest, and late fees in the Affirm app.
Price
Affirm Pay-Over-Time messaging is free for Shopify merchants.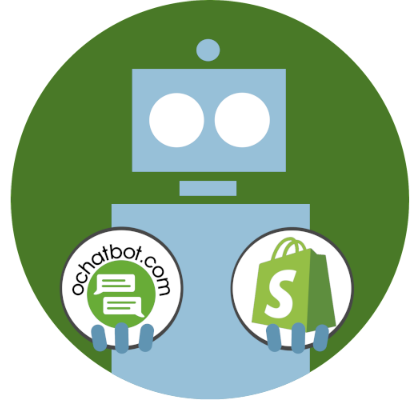 True AI to engage customers for eCommerce, business leads, and customer support.
Create happy customers while growing your business!
5% to 35% Increase in AOV*

20% to 40% Increase in Revenue*

25% to 45% Reduction in Tickets with a Customer Service Chatbot
We Guarantee Results... Or Work For Free!
*When shoppers engage with Ochatbot®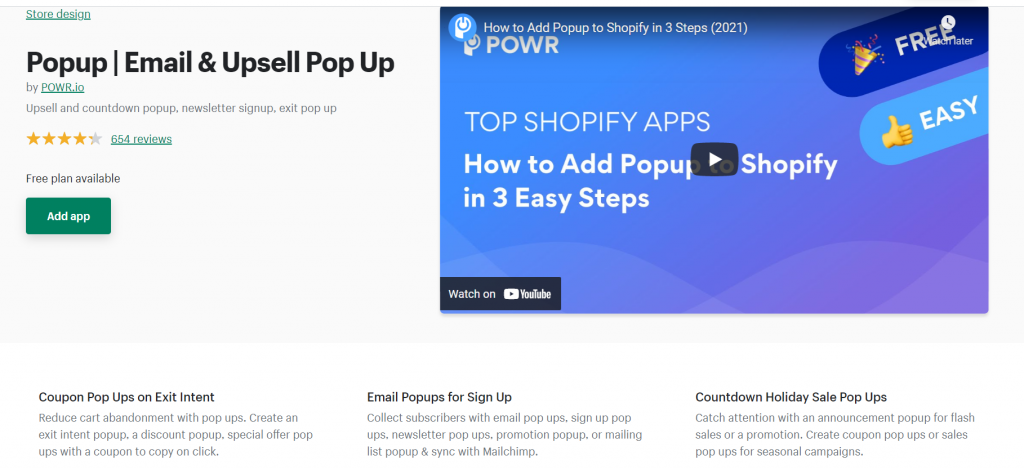 Pop-Ups are significant for converting your casual website visitors into potential customers. This app serves more than payment methods as Pop-Ups help Shopify merchants in conversion rate optimization. It is easy to build email, messenger, and SMS with high converting Pop-Ups. You may also sync the app with 40 plus tools like Klaviyo and meta messenger.
Abandoning visitors is one of the challenges of every eCommerce site owner but with Pop-Ups, you can create urgency, and exit intent pop-ups to retain them. Here are some of the exceptional features of the Pop-Ups app:
Helps in abandoned cart recovery.
Upsell and Cross-sell products in the store.
Enhances brand loyalty with feedback.
Shopify merchants can make use of email capture pops, free shipping bar, and upsell popup. welcome popup, NPS survey bar, spin wheel pop up, coupon pop up, and more.
Price
Pop-Ups app has four payment options including the free trial option. The free trial option includes unlimited live pop-ups, 300 plus pop-up templates, 30 plus targeting and triggering options, 15,000 page views, and full integrations.
$29/month – 30,000 page views, max 2 domains, A/B testing, and every feature in the free plan.
$79/month – 4 domains, 100,000 page views per month, custom JS variable, and features in the above plans.
$199/month – Every feature in the above plans, 500,000 page views per month, 10 domains, and priority support.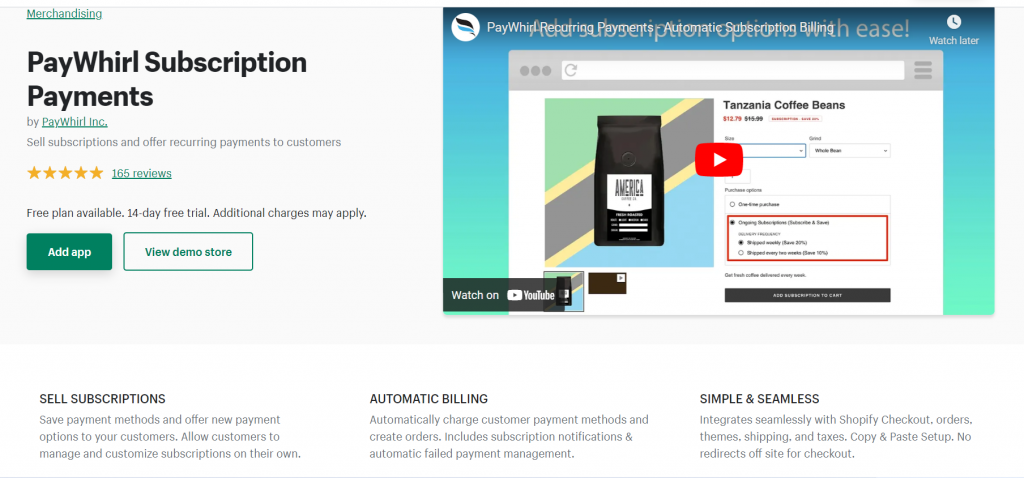 Pay Whirl subscription offers recurring payments to customers and enhances the payments platform by selling subscriptions. Shopify merchants may save payment methods and provide new payments to customers. This payment provider app also allows customers to manage their payments themselves.
Subscription notifications and automatic failed payment management are the best features in the Pay Whirl Subscription app. This app also integrates with Shopify checkout, orders, themes, taxes, and shipping. Shopify merchants can create, manage and sell the subscriptions with the Pay Whirl Subscription. The app also offers migration support from Shopify payments, Stripes, Authorize, and PayPal. An online business owner should make their app flexible for all devices, and Pay Whirl Subscription is exclusively built for mobile compatibility.
Price
Pay Whirl subscription has four plans for the Shopify merchants:
Free – Free plan has unlimited subscription options, subscription analytics, data exports, and all features.
$9/month with the 2% transaction fees.
$49/ month with the 1% transaction fees.
$249/month with 0.5% transaction fees.
Alternative Way to Ease Checkout Process
While these apps are a benefit, there is an alternative to them to ease the payment checkout process in online stores.
Implementing an AI chatbot on the website is one of the easiest ways to manage and track orders. Ochatbot is an Artificial Intelligence (AI) induced chatbot that enhances customers' journey by performing multiple tasks on the website. Ochatbot connects product recommendations and boosts the upsell and cross-sell activities. Customers may also place orders without leaving the chat window, hence you will reduce the abandoned customers' rate.
The eCommerce integrations of Ochatbot are Shopify, Magento, BigCommerce, and WooCommerce. If you want to enhance your customer journey other than using apps, an AI chatbot is the best option. Check out our latest posts to know more about Shopify customization!
Latest Posts
Frequently Asked Questions
1. How to accept mobile payments on the Shopify store?
Shopify merchants may use credit card terminals to accept payments through credit cards and debit cards. Apart from inserting and swiping, you can also enter the card information manually.
2. What are the transaction fees in the Shopify payments?
The Shopify payments eliminate the transaction fees from 0.5% to 2% compared to the Paypal method.
3. Is Shopify payment safe?
Yes, Shopify is one of the best eCommerce platforms that have a fully secure payment processing method and Shopify payment is Payment Card Industry Data Security Standard (PCI DSS) compliant and uses Secure Socket Layer (SSL) technology.

Latest posts by Greg Ahern
(see all)