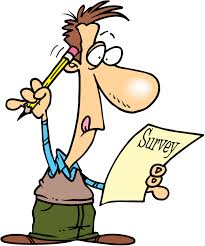 Has this happened to you?
You've got a fantastic survey to give out to your customers that's going to change your business for the better. The questions are up and ready to go. The multiple-choice bubbles are just waiting to be filled in. There's just one thing left to do…
Get people to actually answer it!
Here's how to pull in survey respondents who are ready, willing and eager to answer your questionnaire with gusto.
1) Don't make it complicated
What do you want to know, and why? We're thinking you have some sort of objective here. Write as if you're speaking with the person in front of you. Make every question as simple and direct as you can. Speak clearly to the survey respondent you want answers from. People answer questions they understand.
2) Don't leave them in the dark
If your website visitor uses your products and services, they might be more willing to give online feedback. Asking for their assistance means respecting their time and attention. Let them know how long it will take: one minute, two minutes or five minutes. Instead of noting the time, you might say the survey is five or 15 questions long.
3) Don't forget to give back
Everyone wants something for free. Go on and bribe them. What could you give your survey respondent if they answer all your questions? Think about a free e-book you could give them, or a discount code for a pricey product. You could also enter them in a raffle and give away a gift card or a particular service your company provides. People love that stuff.
4) Don't confuse them
Reading has changed on the Internet. Website visitors are more impatient than they've ever been. They're used to closing out ads, scanning articles and clicking off pages all in a matter of seconds. Write a question that gets to the point. No flowery language and no complex words. Don't confuse them and don't make them think.
5) Don't leave them hanging
Survey respondents want to know how their information will be used. Do you want to redesign your site? Make the checkout process easier? Improve your products? If a customer has feedback they'd like to share with you, they might be more willing to take the survey if they know how it's providing value to your company.
Get the website feedback you need to make your business more successful. With a great set of questions and a call to action to match, your survey will give you the responses you want to dramatically improve your company.

Latest posts by Greg Ahern
(see all)