Just a few years ago, business teams would debate whether there was a business case for adding customer service live chat to the company's website. Since then, technology has progressed rapidly, and an increasing number of our interactions with brands today are powered by bots, many of them AI powered, whether we are aware of it or not. 
Also not so long ago, we would patiently wait for several days to get a reply from a company to our email inquiry (and some required us to call!). With the popularity of social media, the company response SLA (service-level agreement) shortened to just a couple of hours, and now, customers want a response immediately. 
Customers frequently research solutions to their problems, whether that has to do with finding out the right clothes sizing in B2C or finding out what is contact center optimization in B2B, they want to spend as little time as possible while obtaining the most optimal result. Many use voice search, AI tools like ChatGPT and Google Bard, or AI assistants like Siri, Google Assistant, or Alexa to shorten the time spent on research. 
In fact, research shows that 63% of people would rather message a business than call customer service or email; 66% of people are more likely to shop with businesses they can contact via messaging; and 74% of people feel more connected to a business when they can message them directly. 

What Is Chatbot Marketing? 
A chatbot is a computer program that automates certain tasks and uses a conversational interface to chat with a user. Chatbots have come a long way. Originally, they were rule-based programs that could answer basic queries and followed a simple decision tree script created by a human. 
Modern chatbots are powered by artificial intelligence (AI), natural language processing (NLP) and machine learning algorithms, and have become sophisticated virtual assistants capable of engaging in meaningful conversations. Chatbots can handle a broad range of tasks, from answering frequently asked questions to assisting with complex problem-solving. 
Chatbot marketing, also referred to as chat or conversational marketing, is a marketing technique that uses automated, direct, one-to-one messaging to communicate with customers throughout their purchasing journey on one or more interfaces. Companies use chatbots for customer support, general and marketing information, lead generation, and customer acquisition and engagement. 
Chatbots operate in different interfaces, such as website chat, in-app chat, social messaging (WhatsApp, Messenger, Instagram), and SMS. Similar to live chat, chatbots can initiate conversations with web visitors and can be programmed to trigger based on certain customer behaviors. 
The objectives of chatbot marketing include customer experience optimization, lead generation, sales, brand awareness, and customer engagement. And in B2B, where sales scripts are common, chatbots are used to automate lead geneneration conversations.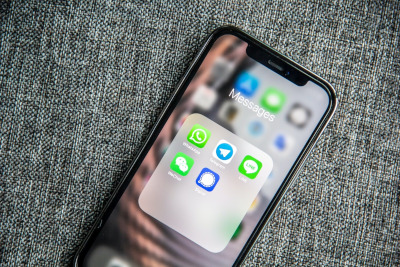 How Chatbot Marketing Is Changing Customer Experience 
In a world saturated with content and information, chatbots are an always-on, immediately available tool that enables customers to shortcut through unnecessary data and get straight to the right information. Marketers can leverage chatbots for data gathering, to increase sales, and drive lead generation and customer engagement. 
Chatbots in Customer Service
Chatbots are available 24/7, don't need to sleep, eat or take breaks, and are always ready to assist. Customers can get the support they need when it's convenient for them, leading to higher customer satisfaction. 
Companies like Amazon, Apple, and American Express offer customer service chatbots on their websites and apps. A chatbot identifies keywords in a customer inquiry and shows the most relevant content for their needs. If the customer is not happy, the chatbot can hand over the chat to a human customer service rep. 
WeChat chatbot in China goes further. Without leaving the messaging app, users can video chat with a friend, order a taxi or food at a restaurant, and book a vacation. In fact, WeChat has become such a big part of life in China that businesses are expected to have an integration with it.
Most of the customer service inquiries that companies receive are basic, straightforward questions about opening hours, product information, and refund policies. Using chatbots to handle such basic inquiries frees up the customer service reps to deal with more urgent or complex support requests and leads to higher customer satisfaction. 
Chatbots have become a big part of the customer experience strategy; 43% of businesses report using chatbots to save time on customer service, and 71% of customers would be happy to use a bot if it meant an improved customer experience.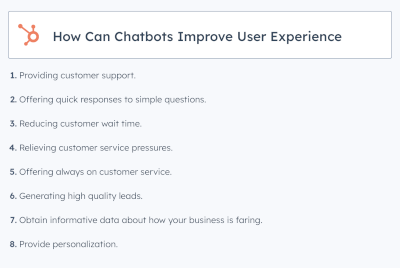 Chatbots in Marketing
Chatbots allow companies to gather and analyze data on interactions with their customers. Marketers can leverage the data from chatbot conversations to improve the customer experience, optimize products and services, and personalize marketing. 
In extreme cases, the data can instantly flag if you have a marketing issue. For example, if you notice that your prospects are asking your chatbot "what is spark SQL?", and your services revolve around something completely unrelated, such as  IT risk management software, you will need to urgently revisit your SEO, PPC, and marketing communication campaigns. 
Marketers can also use chatbots creatively, beyond customer service and basic information tasks. One example is Domino's Pizza on Twitter. You can order pizza by tweeting an emoji, and Domino's chatbot asks for additional information and processes the order.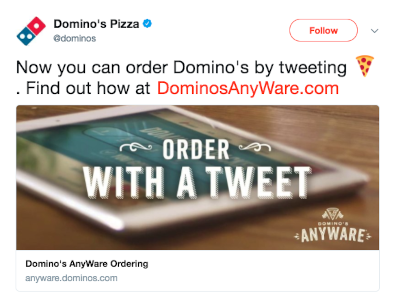 Another example is England's Arsenal Football Club. They use chatbots in their marketing to engage with their audience and promote their brand. The chatbot is called Robot Pires and is the digital doppelganger of the football coach and former player. It is available on Slack, Skype, Telegram, and Messenger. 
Robot helps soccer fans stay up-to-date with the latest club news, upcoming games, and real-time match updates. It can also help fans purchase tickets for the next game, view player stats, find player interview videos, and more. Users can customize alerts, follow their favorite topics and players, etc.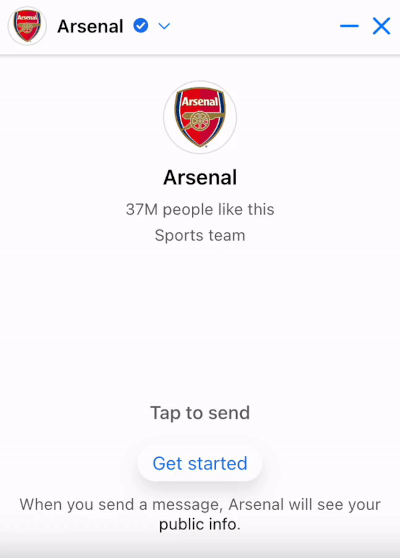 Using chatbots in ecommerce allows marketers to address a number of business challenges, such as high bounce rates (customers leaving the website prematurely) and cart abandonment. 
An ecommerce chatbot is there 24/7 to guide customers through their online shopping journey, offer relevant product recommendations, notify them about discounts and offers, provide personalized assistance, resolve any issues, and support the checkout process. 
The presence of the chatbot helps marketers keep their target audience on the website longer and get to the desired outcome—purchase—faster and easier. 
Chatbots can also help customers search product databases, add items to their carts without leaving the chat window, track their orders, and contact live customer support for more complex inquiries. Last but not least, chatbots also collect customer feedback and provide valuable insights that can inform future marketing strategies.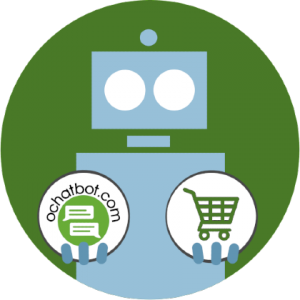 True AI to engage customers for eCommerce, business leads, and customer support.
5% to 35% Increase in AOV*

20% to 40% Increase in Revenue*

25% to 45% Reduction in Tickets with a Customer Service Chatbot
We Guarantee Results... Or Work For Free!
*When shoppers engage with Ochatbot®
Chatbots in lead generation 
Just like B2C customers, B2B customers' expectations have been evolving with the digital age—they want to spend minimal time on research and be able to find answers to their questions online, fast. Chatbots are perfect for lead generation in B2B, where sales cycles are long, complex, and multiple stakeholders are involved. 
Lead generation in B2B usually starts with an inquiry to a sales rep. Unlike human sales reps, chatbots are available 24/7 and can provide the required information when the prospect requests it, facilitating their progression along the purchasing journey. You can also use new channels for lead generation, for example, tools like conversational AI SMS allow you to  generate leads via SMS. 
Chatbots allow businesses to segment the prospects landing on their website, filter out visitors who don't meet their targeting criteria, and direct the prospective leads to the sales team. At the same time, prospects don't feel rushed or pressured into a sale and can optimize their research time and results with the help of the chatbot. 
There are now many chatbot solutions for businesses, including SMEs, and thankfully, there is also a lot of advice on how to choose one of the best chatbot platforms that best suits business needs.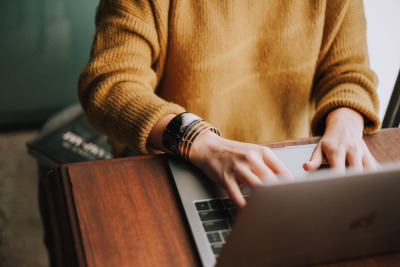 Beware of the Challenges 
Remember when Microsoft hurriedly launched Bing Chat, their contribution to the AI race, and had weeks of bad PR as a result? 
Like with any technology, chatbots have their limitations, and they are not perfect because they are programmed by humans. A conversation with a bot does not feel like talking to a human, it is too impersonal. 
Chatbots are not versatile nor creative, don't have a sense of humor, and can't improvise. This may be a challenge with B2B products in particular. Imagine a prospective B2B customer using a chatbot to learn more about a healthcare insurance dialer solution. Sometimes, it's just easier to talk to a representative. 
Depending on how they are implemented, chatbots may struggle to understand conversational context, get confused, or forget what the customer said. Some chatbots do not clearly state that they are bots and do not give an option to escalate to a human representative. What's more, chatbots require regular maintenance, updating and optimization; they are not a one-off implementation. 
The Future of Chatbot Marketing 
With the rapid advancement of AI technology, such as the emergence of ChatGPT, chatbots will likely continue to evolve fast. They are already instantly available, at the customers' service 24/7, fast, knowledgeable, and omnichannel. 
Chatbots are already handling FAQs and saving time and resources so that customer service reps can focus on more important concerns. They provide personalized service and advice, in multiple languages, collect customer feedback and information, allowing businesses to improve their processes, products, marketing and sales strategies. 
Chatbot marketing is changing the customer experience by providing always-on, personalized at scale, improved customer service and engagement. From being an experimental item on the business test-and-learn agenda just several years ago, chatbots have evolved and become a necessary part of the business customer experience strategy.  

Latest posts by Greg Ahern
(see all)