E-commerce Conversion Funnel – 7 Must Do Steps
Do you know the crucial step of converting casual website visitors into customers is a huge task?
An eCommerce store will have a huge number of website visitors in a day. Do you think every website visitor becomes a customer? The simple answer is no.
What if we told you that you can use your optimized eCommerce conversion funnel to convert most of your website visitors into buyers and increase the conversion rate organically?
This article covers how to read the different ways to optimize the eCommerce funnel and increase your conversion rate.
What is an eCommerce Funnel?
The eCommerce funnel has various stages of converting website visitors into customers. eCommerce store owners enhance the customer journey by creating awareness about their brand in the initial stage and encouraging them to make a purchase in later stages.
When you create an eCommerce store funnel, you should implement marketing efforts to stop your customers from going to another website. There are three stages in creating an eCommerce funnel.
Awareness stage

Consideration stage

Buying stage
Awareness Stage
Website visitors in your eCommerce store may not know about your brand so your first step as an eCommerce site owner is to create brand awareness. Online shoppers should know information about your brand and products.
Most eCommerce site owners will create blog content to help customers learn more about their products. Blog topics in an eCommerce store can talk about the benefits of products, how to use the products properly, and so much more.
Consideration Stage
Your customers should know the ways to use your product in an efficient way. In the consideration stage, you should tell your online shoppers how to use products. Every customer will have pain points and your product should serve as a solution for their problems.
In this stage, online shoppers will help customers understand why they should consider buying your products. A successful consideration stage will convince your customers that your products will resolve their pain points.
Buying Stage
The buying stage is the ultimate goal of every eCommerce site owner. At this point, your customers have brand awareness and know that your products will solve their pain points. The final and significant stage is to encourage visitors to buy your products. The success of the above two stages will reflect in the buying stage. A purchase process in eCommerce stores should be flexible to generate more loyal and repeat customers.
How to Build An eCommerce Conversion Funnel? – 7 Must-Do Steps
Building an eCommerce sales funnel for your business is simple if you know the effective ways to build a conversion funnel. It can help you sustain your existing customers and find new prospective customers for your websites.
From understanding your target audience to satisfying their needs, the eCommerce conversion funnel entices customers to the last stage of the journey. Here are the seven most significant steps to convert your website visitors into an eCommerce conversion funnel.
1. Improve Customer Lifetime Value
Enhancing customer lifetime value will benefit an eCommerce business in a great way. An eCommerce site is not only necessary to convert casual website visitors into customers but should motivate shoppers to return to an eCommerce website and purchase. In simple words, generating return customers is an important aspect and is how every online business increases customer lifetime value.
The eCommerce sales funnel should first increase customer satisfaction by solving customer service issues on the site. For instance, when online business owners help customers go through the three stages of the funnel, they should recognize their pain points and resolve them. 
2. Identify Target Market
When you are planning to sell your products to customers, you should identify and understand your target market.
It is necessary to understand your customers' needs and desired products. The role of the target market is extensive in the eCommerce business. When you analyze different ways to solve your customers' problems, you will eventually find the best solution.
You can create an optimized eCommerce conversion funnel when you create them with the target audience in mind.
3. Ease Your Navigation
If you have complex navigation on your eCommerce site, there is an increased chance of a higher bounce rate. Easy navigation will help you enhance your buyer's journey effortlessly. When you have website visitors on your site, you should ease the website navigation to make them purchase from your eCommerce store.
A website visitor should find their products easily without surfing an eCommerce site multiple times. When your website has good navigation, you can escalate the speed of product search and conversion rates.
An online store owner can also increase traffic, user experience, and conversions of site visitors on an eCommerce site with good navigation. Most importantly, if your product page has a complex interface and your online shoppers find it difficult to search for menus, you cannot make them go through every stage of the eCommerce conversion funnel.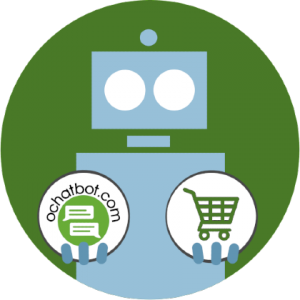 True AI to engage customers for eCommerce, business leads, and customer support.
5% to 35% Increase in AOV*

20% to 40% Increase in Revenue*

25% to 45% Reduction in Tickets with a Customer Service Chatbot
We Guarantee Results... Or Work For Free!
*When shoppers engage with Ochatbot®
4. Website Visitors into Potential Buyers
Customer communication is significant to converting your website visitors into buyers. You should also identify how and where you convert your casual website visitors into buyers.
In simple words, when you define a conversion point in the eCommerce store, you will understand a strategy to convert most of your casual website visitors.
Customer communication plays a huge role in increasing conversion rates. Advanced AI chatbots on eCommerce sites will identify conversion patterns in customer communication. In the same way, you should use different strategies to convert website visitors into customers. 
5. Multiple Payment Options
eCommerce websites face cart abandonment issues due to a large number of issues, one being fewer payment options.
Making the checkout process easy for customers will enhance the purchase stage of your eCommerce funnel. If your payment option is not flexible for online shoppers, then they will find another store that offers their preferred payment method and purchase there. Multiple payment options will encourage customers to purchase products from your site. Streamlining checkouts and eliminating shipping costs are two effective ways to help customers finish their final stage. 
6. Content Marketing
A blog section in the eCommerce store is also one of the effective ways to invite the target audience to your website.
eCommerce website owners should create blogs with relevant product keywords for the second stage in the conversion funnel. When customers try to find information about your products, blog content helps them understand more about your products.
Content marketing and SEO (search engine optimization) rich blog content will help your website visitors find your eCommerce website on the search results page. SEO content is a strategic way of writing posts on your blogs with relevant keywords that have a higher search volume.
7. Live Chat and AI Chatbot
When it comes to eCommerce sales, customer service is an important aspect. Physical stores have sales reps to solve your online shoppers' problems. Live chat and AI chatbots are the best solutions for eCommerce websites.
In an eCommerce website, an advanced AI chatbot will converse with customers like a real person and understand their preferences. You can understand your customers' needs effortlessly by implementing an AI chatbot on your eCommerce website. AI chatbots and Live chat are the perfect strategies for helping your customers finish the first stage of the eCommerce conversion funnel.
Conclusion
Exact eCommerce conversion funnels differ between online stores. However, customer satisfaction is the common point in building a sales funnel. You should generate loyal and paying customers to grow your brand organically.
When an eCommerce site puts its customers first while building a funnel, it can grow its website and increase sales consistently.
Frequently Asked Questions
What are the three stages in the eCommerce conversion funnel?
Awareness, consideration, and buying are the three stages of the eCommerce conversion funnel.
What is customer lifetime value?
When a business develops a loyal customer base, it will also generate repeat customers and consistent revenue. Customer lifetime value is the value of repeating customers on an eCommerce website during their purchase period of time.
Why checkout page optimization is necessary for an eCommerce business?
The final stage in the eCommerce sales funnel is encouraging customers to buy your products. If the checkout page is complex, your customers will abandon their carts. Optimizing check-out pages in eCommerce websites will accelerate the purchase process.

Latest posts by Greg Ahern
(see all)