Chatbots are an entrenched part of our online experience. Whether you're browsing an e-commerce website, reading an informative blog, or engaging with others on your favorite social platform, the likelihood of a chatbot waiting in the wings to support you is high to say the least.
We're quite accustomed to using chatbots as a tool to find answers to common questions or to reach customer support channels. Not only do they provide a quick path to important resources that a visitor might need. They also reduce the demands on customer service teams by resolving simple queries autonomously.
There are limitations, however, to the capabilities of common chatbots. As they are typically self-contained computer programs, they cannot genuinely interpret and understand a query. Many chatbots will be looking for keywords or rule-based queries. These will inform the content the chatbot will provide, which may not necessarily be appropriate to the user's needs.
Conversational AI is an advanced technology that stands to revolutionize a range of industries. Chatbot support is one of them. But what separates the two technologies?
What is a Chatbot?
A chatbot relies on text input as the primary source to understand queries and provide answers, such as Only Domains uses to give support on its site.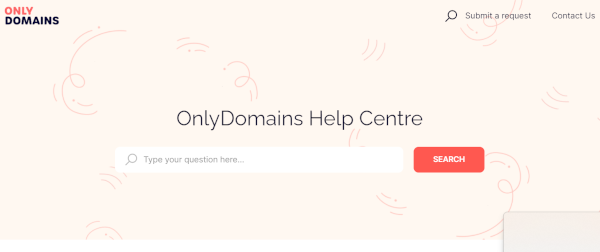 This technology is capable of understanding simple text strings. It can offer solutions or pre-defined pieces of content to resolve the question. Chatbot abilities can vary. They often have limited scope, given the information available to them, and the instructions laid out by the manager of the chatbot.
Chatbots typically operate in two forms – rule-based and AI-based – and serve as vital remote assist software for many businesses.
Rule-Based Chatbot
A rule-based chatbot is the simplest form of chatbot technology and is in use across domains throughout the web. Instead of facilitating a conversation with a user, the chatbot will offer predefined options to choose from. These kinds of chatbots are often found on e-commerce websites and the typical options you might see include:
Order status information

Product information query

Brick and mortar store details

Payment queries

FAQ directory redirection

Customer support redirection
These can often be a convenient way for users to access the information they need. However, as the rules are predetermined there is little scope for solving a more complex problem without a live support agent.
AI-Based Chatbot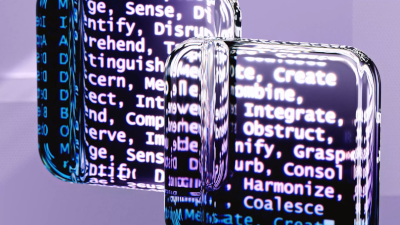 Image sourced from unsplash.com
An AI-based chatbot uses artificial intelligence technology to allow for a more natural approach to customer support. These chatbots will attempt to parse a user query – which can be anything a user types – and then provide a reasonable solution through an understanding of language.
This type of chatbot is more advanced than a rule-based chatbot and skirts into the realm of conversational AI, as it can evolve over time and support more complex use cases.
What Is Conversational AI?
Conversational AI is a catch-all term for a number of artificial intelligence advancements. At base, a conversational AI platform should be able to do just that – have a conversation with a user. In the application of customer support, it should be able to provide a solution to the posed problem.
Conversational AI uses NLP (natural language processing) technology. This is the method it uses to engage with and interpret incoming communications. It's all about comprehending the way people actually communicate. One of the important distinctions to make about conversational AI is that it can use voice speech, not just text, as the input to work from when determining a response.
This advancement opens up new ways to engage with humans and is becoming a pillar in many integrated communications platforms for its ability to operate across several channels at once.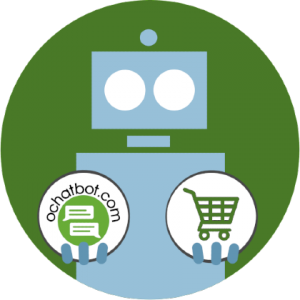 True AI to engage customers for eCommerce, business leads, and customer support.
5% to 35% Increase in AOV*

20% to 40% Increase in Revenue*

25% to 45% Reduction in Tickets with a Customer Service Chatbot
We Guarantee Results... Or Work For Free!
*When shoppers engage with Ochatbot®
What Are the Differences Between Chatbots and Conversational AI?
Functionality
Chatbots use prompt and keyword decision trees to create the impression of a conversational bot that can understand user intent. However, this doesn't fulfill the criteria necessary to be deemed an AI technology.
Conversational AI doesn't carry an inherent function but rather can be trained and sculpted to suit the needs of your business. The scope of use can be much larger. In some cases, it can replace live interaction wholesale. This is thanks to its ability to be contextually aware and use historical data to inform future decisions.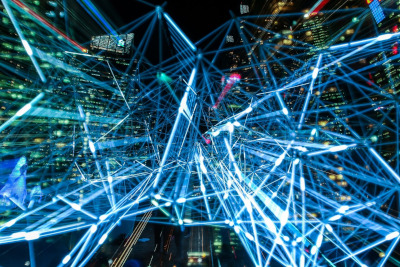 Image sourced from Pexels
Use Cases
Traditional chatbot implementations are far more limited than conversational AI for viable use case scenarios. A chatbot might be capable of helping a user purchase an ae domain by understanding keywords tagged for the user's country and offering rule-based communication, for example. However, it is unlikely to be able to manage any nuanced problems that arise from the purchasing process.
Conversational AI will have a better capability to not only help a user complete a domain purchase. It will also be more available to support long-term. This solution can also support your customer service department by managing your phone lines too. This is thanks to the ability to understand voice communications.
Implementation
Chatbots are inherently easier to implement than a conversational AI solution. Given that chatbots are self-contained programs that rely on simpler instructions to achieve their goal, businesses can integrate a chatbot into their website or platform with relative ease.
Conversational AI, on the other hand, requires more involvement to become a successful solution. Part of the power of an NLP-centric solution is that through training they can become proficient at a wide range of tasks. But the need for training for full effectiveness means that you'll need expert support to get the full effect.
When Should you Use a Chatbot or Conversational AI?
Several industries and situations can benefit from investing in automated solutions using chatbots or AI-powered solutions. This helps to reduce operation costs. It also optimizes workforces, and fills gaps in support infrastructure, especially out-of-hours.
E-Commerce Websites
Possibly one of the most common industries that benefit from implementing a chatbot or AI solution, e-commerce websites have many factors and situations that a chatbot can help resolve.
These websites will typically have a large volume of visitors, carry a range of products, and will include a breadth of information that needs to be available 24/7. Our previous example of a domain retailer would benefit from this solution, where users could purchase an .ai domain for their chosen country of Anguilla or any other domain they need. 
Using a chatbot or conversational AI to guide customers through the process will mean that wherever in the world they are and whichever domain they want, customers will find the support they need. 
One of the benefits of using chatbots here is that e-commerce websites already use indexes and product information to power search functions and checkout processes. This means that chatbots can provide more complex support using pre-existing information.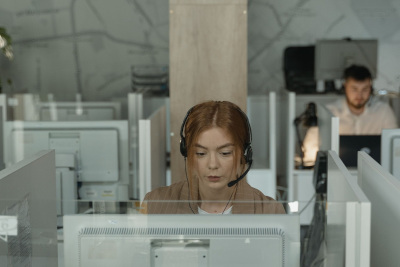 Image sourced from Pexels
Recruitment
Recruitment agencies can benefit greatly from AI solutions. The need to engage with a wide range of unique individuals, and match up information to equally unique job postings is quite daunting. But the use of conversational AI as a middle manager before recruitment agents engage with the individual is a major benefit.
Visitors can leave CVs and use conversational AI to explore job listings in the directory that could be an appropriate fit for them. It can also find use as a recruitment ATS and keep individuals up-to-date with progress on their applications.
Call Centers
Conversational AI can help to reduce the load on call centers through call screening and resolution of common complaints or issues. For instances where AI cannot solve a problem, it is capable of directing callers to the appropriate department or staff member.
This not only enhances customer service but also significantly improves operational efficiency, making it a flexible and effective way to expand your customer service platform and improve the end-user experience.
These solutions can even integrate into cloud-based call management programs, such as the Vonage cloud VoIP phone system. This makes it a flexible and effective way to expand your customer service platform and improve the end-user experience.
Social Platforms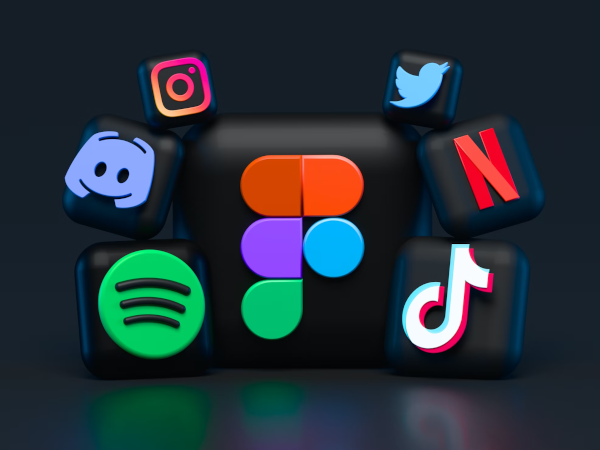 Image sourced from unsplash.com
Social media platforms facilitate vast amounts of communication between users while holding a huge amount of personal information, imagery, and content. AI solutions can build on this knowledge by providing in-depth guidance for users of a given platform, both in a support category and during general use. Chatbots could be employe
d for portions of support, though the scope of their use would in truth be limited in this industry.
Looking to the Future
By now, it's becoming clear that the future of many industries lies in the power of AI. The advances made by artificial intelligence in recent years have fundamentally changed the landscape of technology and show no signs of slowing down.
Chatbots serve as a tried and tested solution to common problems for a range of websites and use cases, but it's clear that their capabilities are not always sufficient to meet the needs of a modern user in 2023. Conversational AI, however, utilizes newer technology that can learn and grow to meet the changing needs of your business and your customers.
AI can influence more than just communications too and is already in use for a range of tasks that were previously human-operated or managed by other computer programs and needed maintenance or management. Its scope here, and beyond, is still unknown. Exciting times. 

Latest posts by Greg Ahern
(see all)