Do you know how Shopify shipping rates calculator apps reduce additional work for Shopify merchants? A Shopify store owner should automate the work process in their online store to enhance sales and In this article focuses on the best shipping rates calculator apps for the Shopify store.
Jump to the Content
Shopify Shipping Rates Calculator Plus
Shopify App Store
Shopify app store helps eCommerce store owners increase the functionality of their stores. If your online store doesn't have an automated process, then you may find different apps to enhance the process and there are various apps available on the store to grow your business and increase sales. A Shopify store owner may use the apps for the following improvements:
Adding reviews to the store.
Product attributes.
Filter Apps for the collection page.
Calculating shipping cost.
Gaining deep insights into customer behavior.
What is a Shopify Shipping Rates Calculator App?
The shipping calculator App helps online business owners calculate the value of the products in their cart. ECommerce store owners may create unique shipping methods by using a shipping rates calculator app.
Calculating shipping costs is an easy process with the Shopify shipping rates app. While shipping methods vary by weight, number, and product price, a shipping app displays the shipping costs with consideration to the variations for accurate pricing.
The shipping rates calculator app provides estimated delivery dates for the order.
The Shopify shipping apps will also display discounted shipping rates.
The shipping rates calculator app enhances the customer service experience in an online store.
This app is not only for enhancing the shipping process in an online store because the Shopify calculator app may add product attributes to resolve complexities in the calculations.
9 Best Shopify Shipping Calculator Apps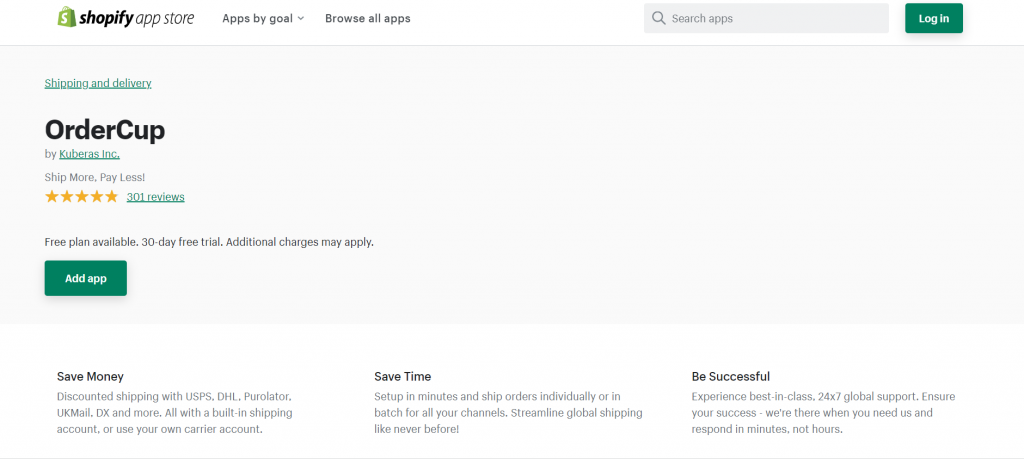 OrderCup is among the best order management Apps for eCommerce stores. The app is suitable for several eCommerce platforms, not just Shopify, but Amazon, BigCommerce, Etsy, Walmart, etc.
The web-based system in this app integrates with popular online channels and shipping carriers.
The app develops a customer-centric eCommerce store by saving them time and money in the shipping process.
Discounted global shipping is one of the key features of the OrderCup shipping calculator App.
This app has key hardware support and automation shipping rules.
The best feature of this app is its 24/7 availability to simplify the complex process.
Price
OrderCup has a 30-day free trial plan with 50 shipments, unlimited channels, all carriers, discounted shipping costs, and email and forum support.
This app also provides three plans for eCommerce site owners: Short, Tall, and Grande.
Short -$25/month with 500 Shipments
Tall- $45/month with 1,500 Shipments
Grande-$65/month with 3,000 Shipments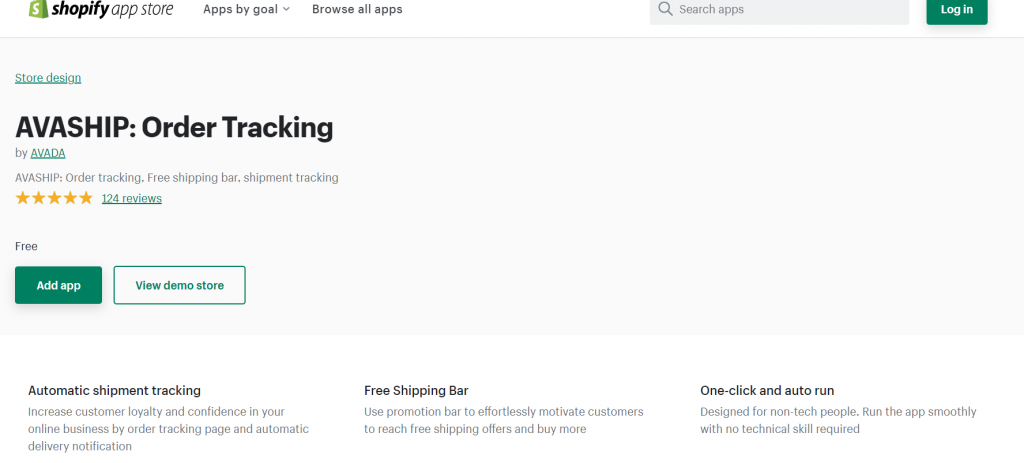 AVADA shipping bar is one of the top-rated shipping rates calculator apps in the eCommerce store and is easy to install with one click. The app is exclusive to the subscribe email, abandon cart, placing an order, shipping order, cross-sell and up-sell activities.
This app provides you with 24/7 live chat, email, full guides, and training courses.
This app is not only for the subscribe email support, it will provide support for transactional emails, review requests, win-back emails, and welcome emails.
AVADA increases the size of shopping carts and enhances the automation workflow.
The AVADA app comes with a free shipping bar feature.
AVADA notifies via email with seven pre-made email templates for test email and shipment status.
Price
AVADA is a free app for Shopify merchants.
Free Shipping Bar on the Shopify App store promotes free shipping offers with messages. This app displays shipping labels, prices, and free shipping offers. The bar background image is one of the captivating features of the free shipping bar.
This app displays your free shipping in a customizable bar.
Free Shipping Bar also has advanced targeting techniques including geotargeting, display page targeting, and exclude page targeting.
Auto-detects the customers' local currencies and offers real-time exchange rates.
The app exponentially increases the average cart value.
You can send personalized 'congratulations messages' to customers when they receive free shipping offers.
Price
Free Shipping Bar provides two plans for the Shopify merchants, they are:
Basic- Free plan with fully customizable bar, device targeting, page targeting, and emoji support on the bar.
Premium – $9.99/month with unlimited active bars, auto currency conversion, background images, auto-scheduling, performance tracking, and every service in the basic plan.

Shopify's default shipping options are limited, so if you want more customization and control over your shipping, ShipZip is the app for you.
So, if you want to take your Shopify shipping to the next level, look no further than ShipZip. The app allows you to set advanced shipping rate Shopify. It also offers custom shipping solutions and order delivery date features that will streamline your shipping process and save you money.
Advanced shipping rates/rules: You can create custom shipping rules based on weight, order total, or the number of items. You can also offer free, flat rates or calculate shipping by item.
Custom shipping solutions: With ShipZip, you can offer your customers a variety of shipping options to choose from. Whether free shipping, flat rate shipping, or calculated by weight or order total, we have a solution that will fit your needs.
Order Delivery Date: ShipZip can help ensure your orders arrive on time with our order delivery date feature. Set the date you need your orders delivered, and we'll take care of the rest!
30-Day Free Trial: You may also try the ShipZip shipping app for 30 days before committing to a paid subscription.
 Price
The ShipZip App has four pricing plans with a free setup. The plans are as follows:
Set up: Free
Shipping: $9.99/month
Delivery Date: $14.99/month
Shipping+ Delivery Date: $19.99/month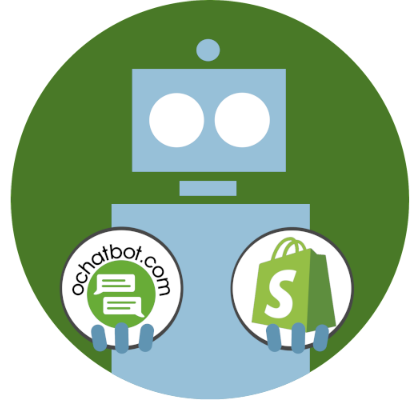 True AI to engage customers for eCommerce, business leads, and customer support.
Create happy customers while growing your business!
5% to 35% Increase in AOV*

20% to 40% Increase in Revenue*

25% to 45% Reduction in Tickets with a Customer Service Chatbot
We Guarantee Results... Or Work For Free!
*When shoppers engage with Ochatbot®
DHL shipping rate calculator app allows you to buy and print shipping labels. This app helps customers and eCommerce business owners track the package and shipping rates.
The estimated delivery date by this app is appropriate for the Shopify eCommerce store.
You may ship the products to 220 different countries with the DHL calculator.
An online business owner may select the package weight and Shopify plan to estimate the savings in the shipping process.
Arranges free pickups with DHL for customers.
Price
DHL Rate Calculator asks for package details and calculates the exact rates for customers. You get the retail rate and a reduced rate for services in every location.
Easyship is an effective software to enhance the sales of online businesses because it reduces shipping costs for customers.
The app provides an 89% discount on shipping rates from the leading courier services with same-day delivery.
There are no hidden fees for the items that customers add to the cart. Customers will view the taxes and additional charges explicitly.
This app generates labels and manages the orders.
This cloud-based shipping platform helps customers reduce shipping costs and scale globally.
You will increase the conversion rate exponentially on the checkout page.
The automated workflow does repetitive tasks such as courier selection, package size, and product value.
Price
The app's users must pay for what they ship and the subscription cost but the app is free to install.
Shopify merchants use Shipping Rates Calculator Plus for USPS, Canada Post, FedEx, and UPS. Abandoned carts are one of the problems that every eCommerce owner faces in the industry and Shipping Rates Calculator Plus decreases abandoned carts and also displays shipping rates accurately.
The Shipping Rates Calculator App shows the shipping rates and zones for every location using precise geolocation.
This app also shows the delivery estimates for FedEx, USPS, Canada Post, and UPS.
Shopify merchants may install the app with one click without any complicated codes.
The app automatically detects the location of online shoppers by using a precision IP database.
Shopify Shipping Rates Calculator shows the shipping and handling cost beforehand to reduce abandoned carts enhance the customer's experience and create a loyal customer base.
Price
Shopify Shipping Rates Calculator App has a 30-day free trial.
Premium Plan – $6.99/month with automatic geolocation and knowledgeable support.
Shipup gives SMS alerts and notifications to customers during delivery times. Online merchants will earn their customer's loyalty with Shipup's custom shipping rates and tracking page.
Shipup provides surveys to turn detractors into ambassadors.
Your customers will get a branded delivery experience with the Shipup App.
The drag and drop builder helps you engage with and retain your customers.
Shipup app supports 60 shipping carriers and eight languages.
This app actively collects feedback from customers, creates alerts, and provides a personalized experience for customers with highly customized tools.
The app has Zendesk and Gorgias integration so you may find your customers' information directly on Zendesk.
Price
Shipup also has a 14-day of free trial with starter and pro plans.
Starter – €181 per month with 500 packages per month.
Pro – €399 with advanced shipping rules and support.
The Shopify Multi-Carrier Shipping Label app allows you to display exact shipping prices at checkout, print shipping labels with a single click, request carrier pickups, and track orders within your Shopify store. The app is the best if you want to save time and cost.
As the name implies, the app supports all major carriers: UPS, USPS, FedEx, DHL, Stamps, Aramex, Blue Dart, Australia Post, Canada Post, and more enabling you to ship globally. This app saves you from juggling multiple shipping solutions letting you select your preferred shipping services to ship to all domestic and international destinations. The app also includes:
Parcel Packing options give you total control over how you want to pack your products. You can pick between cost-effective weight-based packing and box-packing based on your needs.

Customization of the delivery costs for each shipping service based on product weight, price, location & more.

Adding predetermined handling charges to the shipment cost and even offering clients a percentage discount.

Choosing automatically the Cheapest Shipping Services. So if you offer free or flat-rate shipping to your clients, the app automatically selects the lowest shipping option for order fulfillment helping you save a considerable amount.

Displays the estimated delivery days at the Shopify checkout page.

24×7 customer chat, phone email & zoom call support
Price
14-day trial
Based on requirement; $9/mo, $29/mo, $49/mo, and $99/mo subscription plans
Final Word
ECommerce logistics is not easy for online store owners, but the pick, pack, ship, and delivery tasks are easy and flexible with shipping apps.
Shipping the orders should not consume your valuable time, as automating the workflow is always the best option. We have listed the seven best Shopify apps for calculating shipping costs and automating difficult tasks to enhance your customer experience. Once you analyze your requirements and choose the best option to enhance workflow in your online store, you will see an increase in your store's performance. Are you interested in reading more about Shopify stores? Check out our latest posts to optimize your Shopify store effectively!
Latest Posts
Frequently Asked Questions
1. How do I calculate the shipping costs in the Shopify store?
A Shopify merchant can use shipping cost calculator apps or create a shipping calculator snippet from the Shopify store. Here are the steps to create a shipping snippet on Shopify:
Click the 'Online Store' option from your Shopify admin and go to 'Themes'.
Select 'Action' and click 'Edit Code'
Add a new snippet from the snippet directory.
You can create a name for the snippet and add it to your store.
2. How do I set up USPS shipping rates for Shopify?
Go to your Shopify admin and select 'Shipping and Delivery' from the settings.
From the 'Carrier Accounts' section, select' Manage Integrations'.
You can now add USPS as a shipping carrier.
Enter USPS credentials in the dialogue box.
You can add USPS rates for your existing shipping zones and click 'Save' to finish.
3. Does Shopify provide a cheap shipping rate?
Shopify provides affordable shipping rates for customers and also has many available carriers such as USPS, UPS, DHL Express, Canada Post, and Sendle.

Latest posts by Greg Ahern
(see all)