Social proof comes in many shapes and sizes. You can use reviews or testimonials on your product pages, but you can also put them on your homepage. You can use user-generated content on your social media, create case studies or use cases, film videos, or use audio files. 
In this sea of options, it can be difficult to know where to start. We'll look at eight ways to generate some exceptional credibility by using social proof. Note that you don't need to utilize all of them: carefully consider your target audience first, and then implement the tips that would appeal to them the most. 
Leverage Third-Party Review Platforms 
Third-party reviews are often the most trusted social proof you can feature on your website. Since it's believed to be (and most often is) completely unbiased, it's much easier to believe it than any marketing copy you feature on your website. 
When you think about it, it makes perfect sense. You have an agenda: you want to earn more money. Your customers, on the other hand, want to get the best deal possible at the best price. Why should they trust you over each other? 
Note that consumers typically spend 25% more money on brands they trust, so it becomes even more important to give them a reason to trust you. 
One of the best review platforms you can utilize is Trustpilot, one of the most trusted brands of its kind. Your customers are highly unlikely to question the reviews you get on the platform, so all you need to do is implement it correctly. 
Take a look at Thankbox, for example. They feature a prominent Trustpilot element right beneath their homepage header, displaying their extremely impressive score along with CTA that links to their Trustpilot page.
By giving this element so much prominence on their site's most visible page, Thankbox makes their credibility exceptionally clear to visitors and proves that their brand can be trusted to deliver on their promises.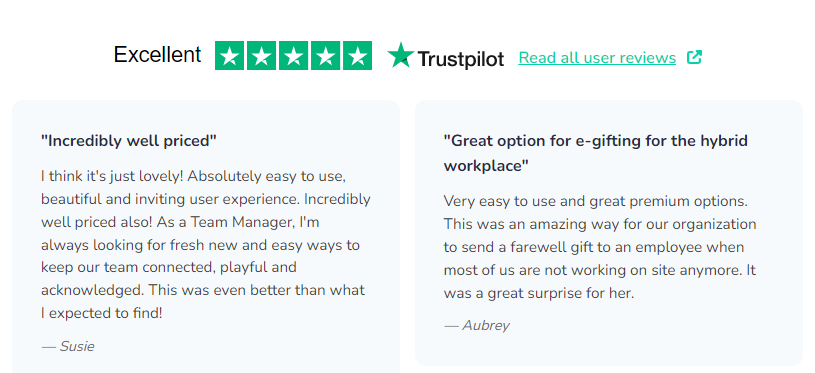 Source: Thankbox.com
The brand also takes the time to respond to the majority of their reviews, and all of their responses have clearly been written by a human and address what their customer said. It's a great way to elevate their Trustpilot profile even further. 
Show Real-Time Sales 
Customers will sometimes be hesitant to make a purchase if they've never heard of your brand before. They may have seen your ad on social media, or you may have popped up when they did a Google search for your products. Now they have found you, but they still have some qualms. 
A genuinely useful way to overcome a lot of conversion obstacles is to feature a widget that displays real-time sales. When a potential customer sees others shopping, it will make them feel much more comfortable.
Firstly, they'll see that you have an active customer base and that others are happy to trust you enough to do business with you. They will also have a chance to see some products they may be interested in but didn't know you carried. 
The Book Depository has a great widget that displays the book purchased and the location from which the order was placed. This ensures that first-time customers feel safer. If the brand is able to ship all the way from the UK to Japan, for example, their order is bound to arrive.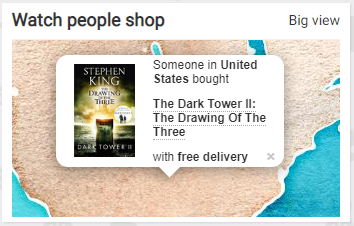 Source: Bookdepository.com 
The widget is not distracting, and it can actually be quite fun to watch others shop. If you are a book nerd, you can spend a delightful five minutes comparing your tastes to that of others. 
Get the Most Out of Earned Media Mentions 
Earned media mentions are a fantastic type of social proof. But of course, they require a fair bit of effort on your part to land them. 
If you want to get featured by a mainstream news outlet, you can start by looking into HARO. It delivers media opportunities into your inbox three times a day, and it can be a great way to attract new audiences, grow brand awareness, and drive qualified traffic. 
Once you do get featured by a blog or major media website, your job is not over. You'll want to highlight on your website that you've been featured and make the most of this type of social proof.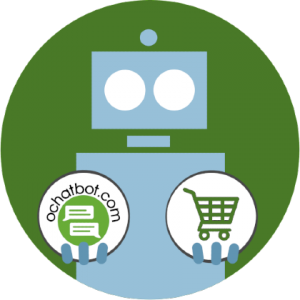 True AI to engage customers for eCommerce, business leads, and customer support.
5% to 35% Increase in AOV*

20% to 40% Increase in Revenue*

25% to 45% Reduction in Tickets with a Customer Service Chatbot
We Guarantee Results... Or Work For Free!
*When shoppers engage with Ochatbot®
MarketBeat features a media section just above their footer. They've strategically not highlighted this element, as most brands do, but have let the logos themselves speak. The mere fact that they've been featured by Forbes and Inc. will add another level of trust to their entire brand.
Source: Marketbeat.com 
If you want to take this type of social proof to the next level, you can also provide a quote from the mention that shows what's been said about you. Gili has done this very well. 
Their media mentions section does not take up too much space, and the quotes are great marketing. They are clearly genuine reviews and will certainly catch the eye of a prospective shopper. 
Note how they've also selected niche media outlets and not the biggest ones (except Forbes) they've been mentioned in. 

Source: Gilisports.com
Allow User-Generated Content in Product Reviews 
Your product pages should feature at least one type of social proof: user reviews. This is the absolute bare minimum you need to feature if you hope to prove to your visitors that you can be trusted and that you're not just another scam website. 
To take it to the next level, allow shoppers to add their own content to the review section. 
This ticks several boxes. First, you will be getting some free visual content on your page. It will also show the product in use from different angles and in different lighting and settings than you could ever conceivably shoot it. 
You will then also benefit from the level of commitment exhibited by your customers. If someone has taken the time to take a picture of the product, write a review, and upload it, they must have really liked the product. Otherwise, they may have just left a five-star review or no review at all. 
Cotopaxi has great product pages that allow for this option. Plus, they let you filter through the reviews based on ratings and videos or images. You can thus easily choose to look at only reviews that come with a visual and check out what the product you are interested in looks like in person.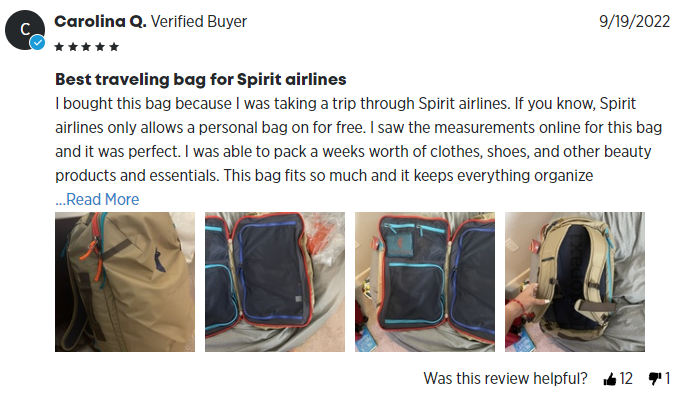 Source: Cotopaxi.com
Use Video 
Using video social proof will again require a bit more effort on your part, but it can be exceptionally effective. Since you only have to shoot them once (or ask your customers to do it on their own if you'd like that organic feel), it can be very much worth it. 
Using video will make your customers super relatable. It will give them a voice, a face, and all the non-verbal information that the community will be there to see and hear. Video is much more personable than text or even audio. It can help customers imagine themselves using your product and understand how it will help them. 
You can use different types of social proof videos. Bay Alarm Medical incidentally has three that work well: customer interviews, a TV spot, and an unboxing video. 
The interviews give you a chance to understand the pain points the product solves and what is a form of video review. The TV spot is not only a way to show they've been featured on mainstream TV but a more sales-pitch type of video. The unboxing is actually a vlog from a customer, which makes it that much more genuine.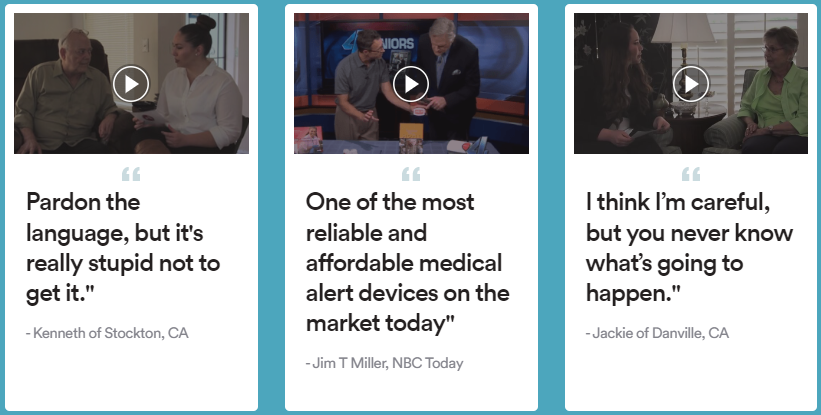 Source: Bayalarmmedical.com
How you approach the video testimonial issue will depend on your audience. Don't try to film someone who is great on camera and who will seem like a hired actor, but don't film someone who is completely camera shy, either. Also, don't edit out the bloopers. You want to ensure that the video does not seem scripted, as that will hurt you a lot more than it will help.
Display User-Generated Content on Social Media 
Social proof also needs to find its place on your social media profiles. Luckily, it can be exceedingly simple to source. All you need to do is monitor your mentions and get genuinely involved in conversations with your audience. 
Before you simply re-share someone's video, photo, or review about your brand, make sure to ask. The creator will be notified anyway if you tag them, but by taking the extra step and asking for their permission, you will appear even more human and show that you genuinely care about your customers. 
Always credit the author of the content and add your own caption or comment. Don't just reuse their entire post and tag them. 
One brand that has nailed this on social media is, without a doubt, Starbucks. Their Twitter and Instagram are filled with UGC in both text and image format. Their followers love them precisely because they're so genuine and show so much care and kindness. Their social media and customer support teams are some of the best, and you can learn a lot from them.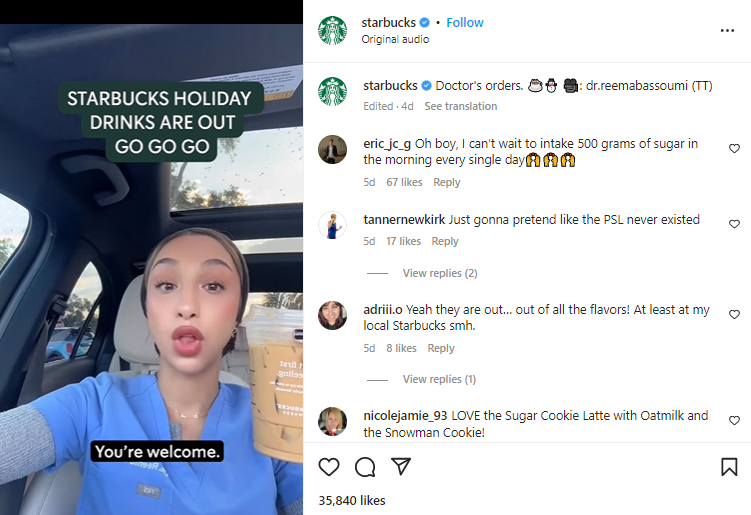 Source: Instagram.com
Notice how they always appear human and funny. They always tag the person who shot the photo. It's clear that they seek out their customers and show genuine gratitude and appreciation for them. 
Seek the Opinion of a Subject Matter Expert
The best social proof will sometimes come from someone who is educated, experienced, and trustworthy enough to speak about your product from an expert's point of view. It can be a big name in your industry, it can be a celebrity, or it can even be a competitor. It doesn't even have to be someone your audience has likely heard of. As long as they have the credentials to back their opinion up, their support will matter. 
Be careful who you ask to endorse your product, though. You don't want to, for example, work with an influencer who endorses all kinds of products. You want someone who is a genuine expert and who hasn't already offered their support to countless other brands. If they have, your customers will know it's most likely a form of paid advertising. 
Here's what you can do. Somnifix recruited the expertise of Mark Burhenne for a quote. You've probably never heard of him. However, he is a family and sleep medicine dentist, and therefore competent to talk about the negative effects of mouth breathing.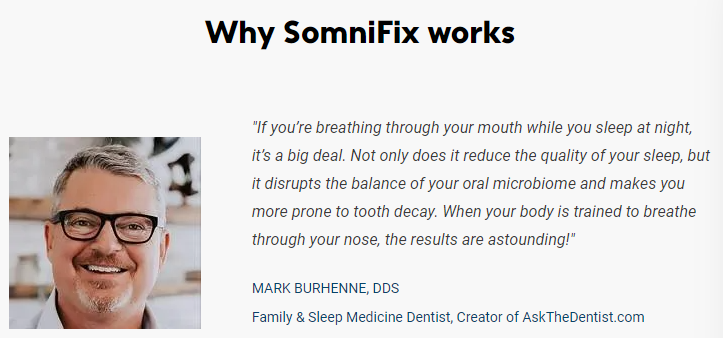 Source: Somnifix.com
Notice how he also hasn't actually mentioned that the product is something you need in your life. He is merely underlining the brand's message: breathing through your nose is good for you; here's why and how we can help. 
Don't Limit Product Reviews to the Product Page
Finally, don't make the mistake of only featuring product reviews on your product pages. What if your visitor never makes it there? What if they don't like your homepage and decide to leave? 
By letting customers see product reviews early on, they will be much more likely to explore your products in-depth. You are saving them the time to click on a product, and you are showing them the products they are likely to be interested in the most. They'll appreciate the effort. 
You can then feature actual products and their reviews on your homepage. This can be a product carousel, a list of your most popular products, a list of your newest products, etc. 
Or, you can do what Mannequin Mall does. They have a Reviews flyout that lets you see what customers have said about specific products and why they liked them. They also have a list of reviews about the brand and the shopping experience in general. A great way to highlight non-product-specific aspects of the business, like great customer service.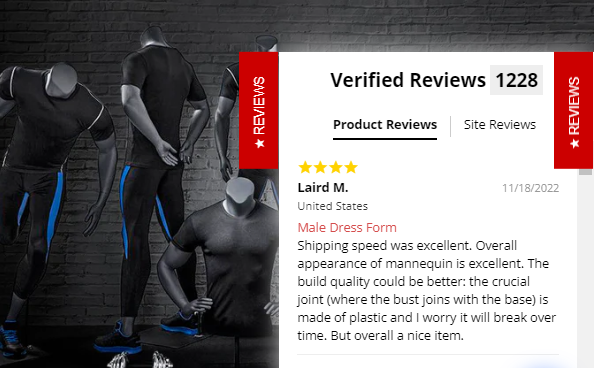 Source: Mannequinmall.com
This is also a very non-obtrusive way of featuring reviews on the homepage. It does not mess with the design but is noticeable enough to matter.
Wrapping Up 
These eight tips on adding relevant and trustworthy social proof to your online presence will help you boost your customer relationships and establish yourself as a genuine, caring brand. Again, note that you don't need all of them: choose the one that will work best for your unique business. 

Latest posts by Greg Ahern
(see all)