Online Website Surveys: Gain Visitor Insights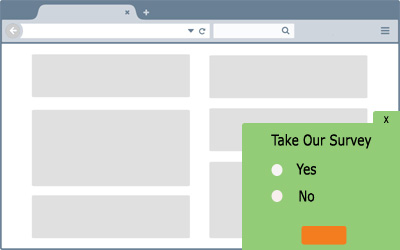 The Survey Sliders and Survey Tabs are now apart of Ochatbot Click Here to Learn More >>
Non-intrusive popup surveys that do not block site content are a quick way to gain website visitors insights. Ask questions that help you learn how to better market, develop new products and get a pulse on your visitors thoughts and desires. Ometrics online surveys are easy to set up. The survey on the left is a popup survey that appears from the bottom of the page. The data is collected into a report summarizing the results and showing the raw data. All data is exportable. Many of these features can also be found in the Website Feedback Tabs.
Features:
Trigger the survey to appear via second time to site, time on page, page position, number of pages, page targeting and more.
Exit Trigger shows the survey or text box when a visitor is about to leave the page. This can be used to offer a coupon or gather information. Try

 

exit pop-ups

 

too.
Three non-intrusive survey window placement options on the page
Asking multiple questions.
Answer formats include emotion icons, radio buttons, check boxes or text fields.
Select survey colors to work with your site.
Create your survey tab label text.
Reporting of individual submissions.
Reporting statistics of all submissions.
Exporting of data to Excel.
Email notification when submitted to multiple addresses.
A/B testing of the questions you are asking.
A/B Test Your Survey Questions
The hardest part about creating a survey is figuring out whether a question is phrased in a way that does not disturb the survey itself. Asking a question incorrectly can create results that support an incorrect conclusion and, in many cases, cause the survey not to be filled out or completed. Ometrics allows you to A/B test your survey and feedback questions, splitting the traffic 50 percent to question A and 50 percent to a similar, but differently worded, question B. The results are compared by a set goal, which can be completing the survey, arriving on a page, or purchasing a product.