22% More Conversions 
Which has higher form conversions, (A) a short sentence enticing the user to fill out the form or (B) a 1,2,3 step process instructing the user of the process? You guessed it  the 1,2,3 step process. In an A/B test using 1,2,3 type instructions (B) had a 22% increase in form submissions.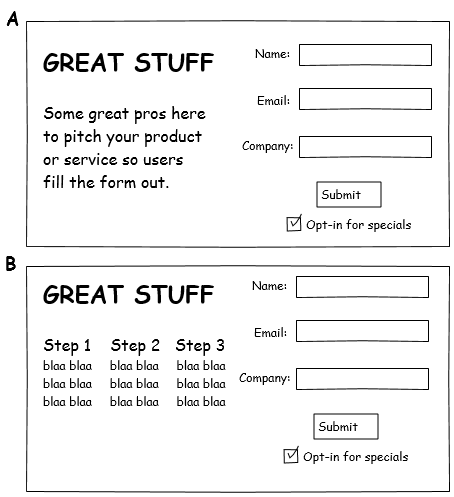 The reason why has to do with putting the user as ease with the future and how long the process will take. I think it also has to do with the human nature of users liking to be instructed in a very formatted way.  No fuzzy logic or uncertainties.

Greg Ahern Founder and President of Ometrics® is a fanatic about conversion rate optimization, AI chatbots and lead generation. Greg has been a successful Internet entrepreneur since 1994. He speaks at conferences and webinars and has built a number of internet businesses, including web marketing, web development and internet lead generation, which have been successfully acquired. Greg is the Denver Chapter Leader for the Digital Analytics Association. You can follow Greg on Twitter @gregahern and join his CRO Hacks Groups on Facebook and Slack.

Latest posts by Greg Ahern (see all)